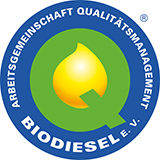 Company profile:
Biodiesel is and will remain the most important renewable fuel in Europe . The Arbeitsgemeinschaft Qualitätsmanagement Biodiesel e.V. (AGQM) was founded as an initiative for quality assurance by leading biodiesel manufacturers and traders in 1999. AGQM is today Europe's leading competence center for quality assurance of biodiesel and its co-products (e.g. Glycerol). With the broad introduction of our quality management system, we have made a significant contribution to the high quality standard of biodiesel on the German market. Over 75% of German biodiesel capacity is monitored in regular, unannounced sampling campaigns for compliance with the fuel specification and further requirements for the key parameters.
Today, AGQM offers much more than "just" quality assurance. It presents and sees itself as a modern service provider who covers all relevant subject areas of the leading alternative fuel in Europe, from production to application. Round robin tests, REACH, additive testing, analytics seminars, standardization and research and development are just a few of the measures that AGQM offers for technical support not only for its member companies but also in Germany, Europe and worldwide.
With its diverse activities, AGQM ensures that biodiesel retains its outstanding importance in the future.
Contact person:
Stefanie Hanke
E-Mail: vasb@ntdz-ovbqvrfry.qr
Telephone: +49 726 259 80
Fax: +49 30 726 259 85

www.agqm-biodiesel.de