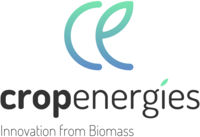 CropEnergies AG
Sustainable, renewable products made from biomass – that is what CropEnergies stands for. Our products contribute to a climate-friendly world and ensure that fossil carbons remain in the ground permanently and do not continue to drive climate change.
Founded in Mannheim in 2006, the member of the Südzucker Group is the leading European producer of renewable ethanol. With a production capacity of 1.3 million m3 of ethanol per year, CropEnergies produces neutral alcohol as well as technical alcohol (ethanol) for a wide range of applications at locations in Germany, Belgium, the UK, and France. In addition to its use as a petrol substitute, where it reduces CO2 emissions by an average of more than 70 percent over the entire value chain compared to fossil fuel, high-quality alcohol from CropEnergies is also used in beverage production, for cosmetics, pharmaceutical applications, e.g. as a basis for disinfectants, or as a starting material for innovative, biobased chemicals.
In addition to ethanol, CropEnergies produces protein food and animal feed products as a sustainable regional alternative to emission-intensive protein imports from overseas, as well as biogenic carbon dioxide. This is used, among other things, in beverage production and will in future be a valuable raw material for a wide range of applications in transport and industry.
In our circular economy, all raw material components are recycled.
Contact:

Telephone: +49 (0) 621 71 41 90-00
Mail: vasb@pebcraretvrf.qr